No announcement available or all announcement expired.
EMP Industries International is the leader and innovator environmentally responsible products for the industrial pump industry.
EMP Industries International was the first company introducing the Peristaltic Pump Technology to the US market in 1992. The Peristaltic Pump Technology revolutionized the industry with:
Exceptional high vacuum, high discharge, and solids handling performance

Unique continuous self-lubrication feature which requires no greasing, de-greasing maintenance and downtime

High quality sealed aluminum casing with integrated cooling fins for unmatched performance and dependability

Pumped medium does not contact internal moving parts for unmatched performance and dependability
Complimentary CVA Grant Assistance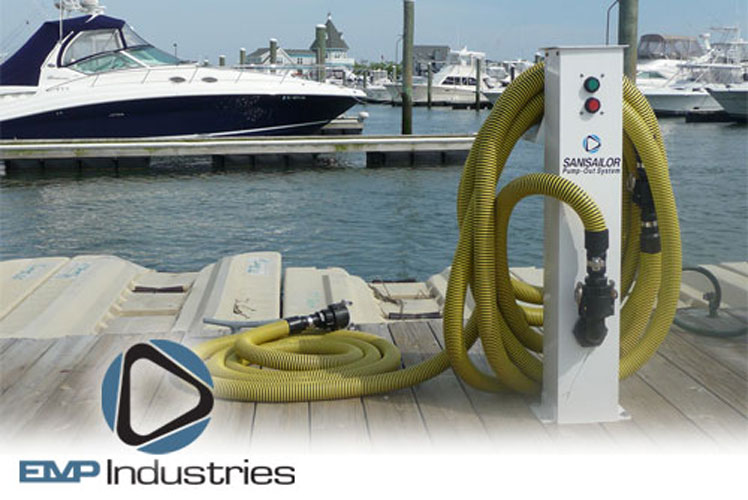 For the past 15 years we have assisted many hundreds of marinas across the nation in securing CVA grants for their pumpout facilities. We have the experience and know how to navigate through the paperwork process to assure you of securing your maximum entitlement in the shortest length of time. You may be entitled for grant funding for you SaniSailor Pumpout, plumbing lines, pumpout electrical system, installation labor, and more.
Call EMP at 1-800-355-7867 to discuss your needs and the CVA grant program in your area.
Administered At State Levels
The Clean Marina Program is a voluntary designation program with a proactive approach to environmental stewardship. Participants receive assistance in implementing Best Management Practices through on-site and distance technical assistance, mentoring by other Clean Marinas and continuing education.
To become designated as a Clean Marina, facilities must implement a set of environmental measures designed to protect the waterways. These measures address critical issue such as sensitive habitat, boat waste preventions, and emergency preparedness.
Designated facilities and those seeking designation receive ongoing technical support from their state Clean marina Program.
Many states also run focused program for:
Clean Boatyards Program

Clean Marine Retailer Program

Clean Boater Program
"The CVA program has been and continues to be the single most effective program for improving the quality of our nation's boating water's having diverted millions of gallons of boating sewage from being emptied into our waters as well as educating boaters on what they can do to improve the quality of our waterways."
Tom Callahan,
owner of EMP Industries
Learn more
"As the industry leader in manufacturing environmentally responsible products for the marina, boatyard and dry storage industries, EMP Industries is well aware of the success the Clean Marina Program has had in improving the ecology of our boating waterways and fisheries. We applaud and appreciate the dedication and hard work of all Clean marina Programs & Participants across our nation."
Marty McDonald,
EMP Industries