No announcement available or all announcement expired.
The Peristaltic Pump – Superior In Marine Applications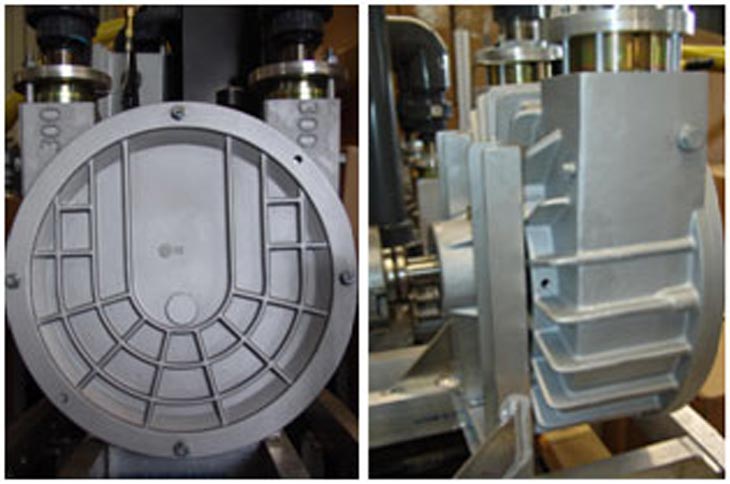 SaniSailor peristaltic pumps offer a superior combination of high vacuum, high discharge pressure and solids handling capacity that outperform other types of pump construction. SaniSailor peristaltic pumps offer cutting edge manufacturing technology for superior performance, longer life and lower maintenance. EMP peristaltic pumps are industrial grade equipment with exceptional dependability and minimal maintenance requirements. Some of the outstanding features include:
EMP's SaniSailor line has the industry's broadest range of peristaltic pumps that easily overcome any plumbing distance or elevation obstacles. EMP Industries has the right marine sanitation device for the job.

The exceptional high vacuum, high discharge, solids and media handling performance are unsurpassed . Pumped materials will never come in contact with internal moving parts for unmatched performance and dependability!
High quality sealed aluminum casing with integrated cooling fins for increased efficiency and resistance to corrosion.

Unique Continuous Self-Lubrication feature minimizes heat, wear & significantly reduces maintenance and downtime. No routine lubricating required, longer hose life and most importantly a longer running time.

SaniSailor peristaltic pumps automatically create a vacuum within the pump housing outside and around the peristaltic hose. This patented internal vacuum feature enables the hose to perform to its full cross section, producing constant pump capacity during the life of the hose. This patented feature does not require any moving parts and does not break down.

Exclusive Early Maintenance Alert design feature enables you to schedule maintenance before an internal hose failure saving time, money and unnecessary downtime.
SaniSailor Pumpout Housing – Designed Better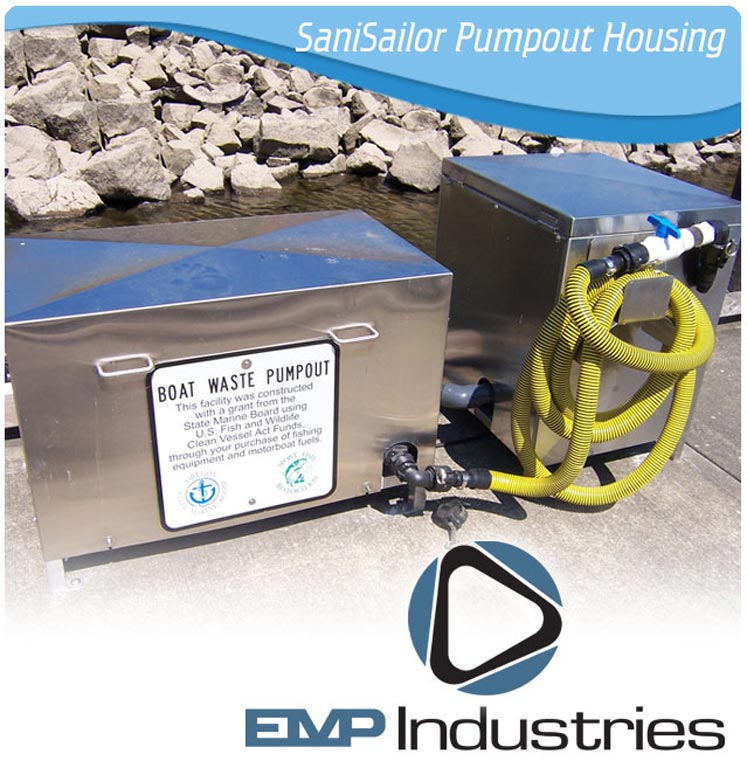 SaniSailors are space efficient providing an attractive looking compliment to your service dock.
System Features Include:

The SaniSailor line is built on a marine grade aluminum frame with corrosion resistant components. We design our systems for the harshest of marina saltwater environments producing a long lasting and easy to maintain product.
The easy to remove PVC panels provide the end user with quick and easy access to core SaniSailor system components.
Our unique elevated aluminum frame design provides ample room for plumbing access and easy inspection of the units. Our competitor designs are build with lesser quality corrosion capable aluminum which are bolted directly to the deck with no elevation.
We include marine grade ON & OFF push button controls, convenient hose hangers and a weather resistant analog hour meter mounted on the housing for easy monitoring.
Designed Better! User Friendly! Attractive!
Exclusive Patented Feature
Every SaniSailor peristaltic pump is equipped with a pressure gauge that monitors the vacuum inside the pump casing. A drop in pressure serves as an early warning that the internal hose has reached a wear point where you should schedule a hose replacement.
This allows for easy maintenance scheduling at a time that's convenient and well before a hose failure. The hose can then be changed in less than an hour minimizing customer service issues or unexpected downtime.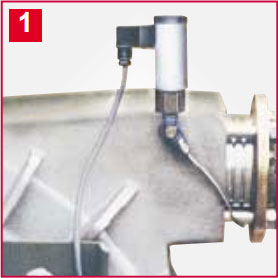 Early warning system switch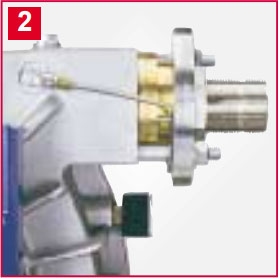 Early warning system suction side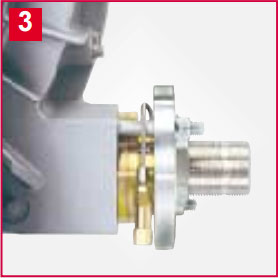 Early warning system discharge side
Animation Of A Pump Out System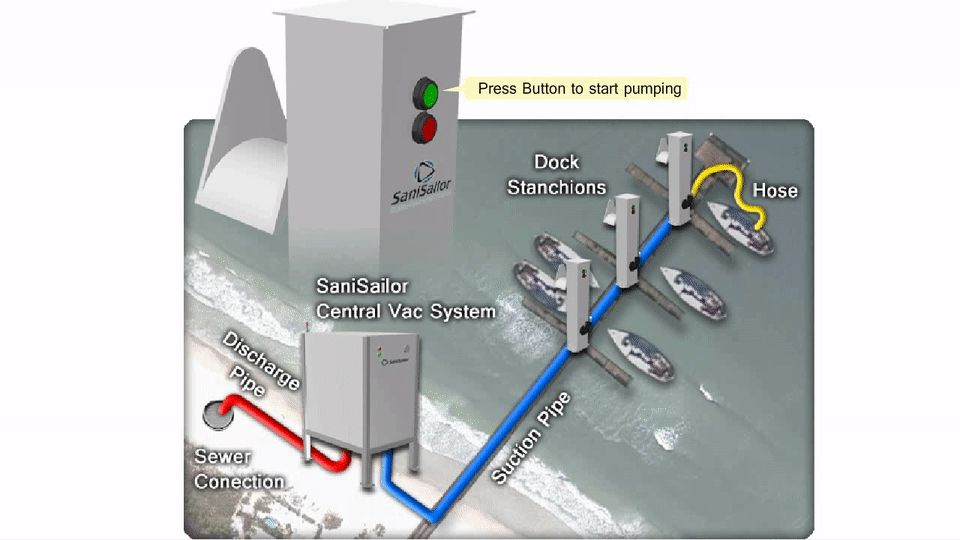 Heavy Duty Solid Rotor: Stronger, Longer Lasting
Each SaniSailor peristaltic pump is equipped with a heavy duty solid design internal rotor that is far superior to the higher maintenance roller & bearing designs. Simply put, the EMP one piece rotor wears better and lasts longer.
Longer Life, Reinforced Peristaltic Hoses
SaniSailor internal peristaltic hoses are poly reinforced which adds significant strength and increases operational life as opposed to lower quality extruded hose designs.
Factory Installed Plumbing Giving you More For Your Money!
Every SaniSailor Pumpout is delivered with manifold plumbing installed at our factory. EMP Industries use extra heavy duty Ultra Violet Light resistant schedule 80 PVC plumbing for all our SaniSailor manifolds. This SaniSailor standard feature is overlooked by most industry competitors.
Simplified Field Installation Connections.

Save Time & Money In The Field.

The Attention To Detail.

Get More For Your Money.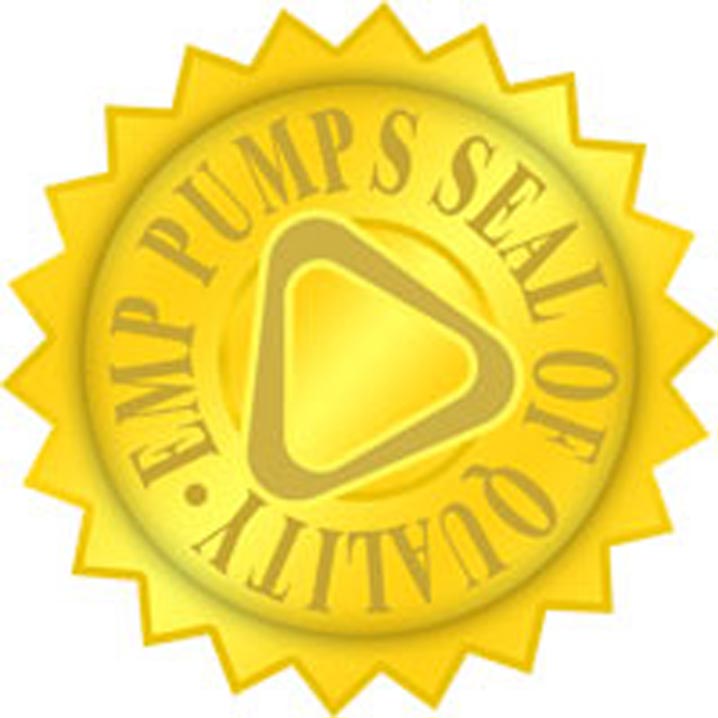 EMP thoroughly operates and tests every pump before it leaves the factory. Look for the EMP Gold Seal Of Quality on every pump!

You can expect the very best in quality and performance when your new SaniSailor pump arrives!

EMP Sanisailor pump outs proved superior in federally funded comparison tests performed by Underwriters Laboratories.

A Three Year Limited Warranty, the best in the industry, backs every EMP Sanisailor Pump-out. Giving you piece of mind that your pump will operate correctly for years to come.