No announcement available or all announcement expired.

Boatwash Water Recycling Systems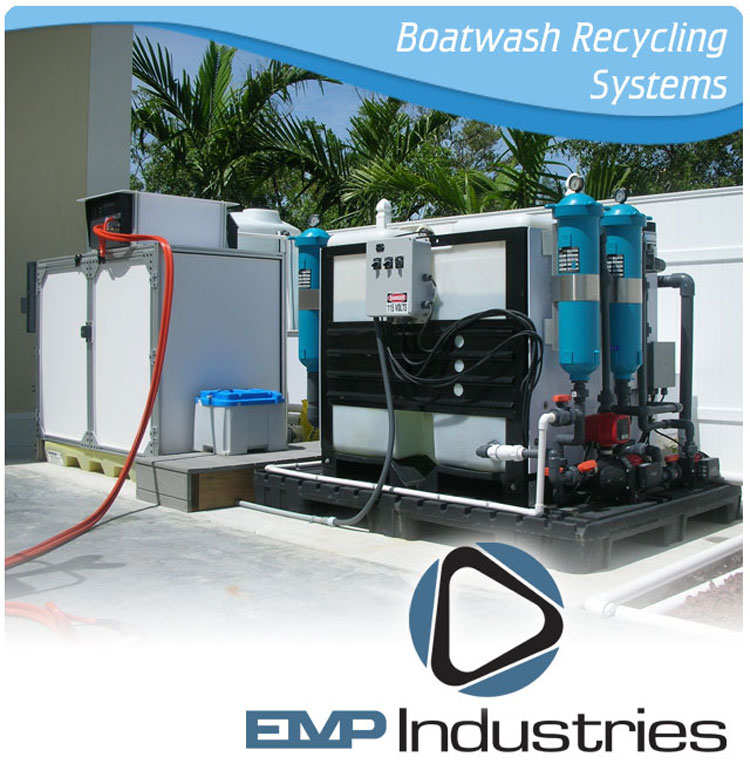 Our new earth-frienly AquaClean water Recycling Systems help stop pollutants from going back to sea.
Commercial and Industrial gray "run-off" is an increasing contributor to global water pollution. By implementing an EMP Industries AquaClean Boat Wash Water Recycle System you can immediately minimize or eliminate any run-off produced from your boat and vessel washing operations containing fine solids, hydrocarbons, algae, heavy metals, paint toxins and toxic chemicals. Federal regulations prohibit this type of discharge which is known as non-point source pollution.
The ideal solution for Dry Storage Facilities, Boatyards and Marinas that routinely wash boats and vessels throughout the boating season. The AquaClean unit can operate multiple pressure washers which is effective on both small and large vessels.
20 Gallon Per Minute Flow Rate
standard unit will service up to 3 pressure washers.

20 Gallon Per Minute Flow Rate
standard unit will service up to 3 pressure washers.

Small Footprint
easy to install.

110 VAC Power Requirement
minimum energy consumption.

Auto Level Control
for makeup water, pump protection & excess overflow.

Auto Recirculation System
filters & sterilizes the stored recycle water.

Solids Reduction
up to 5 microns!

Organics & Biological Fouling Abatement
uses ultra violet & bromine treatment, UV light is the latest technological advancement for sterilization while bromine purifies the water & is safe for operation.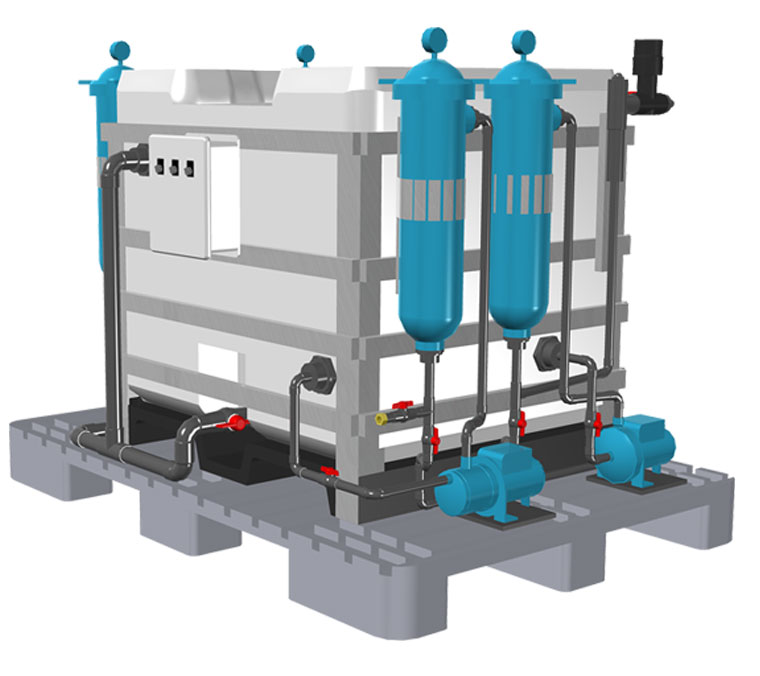 Optional AquaClean Absorbent Medium Cartridge
filter thoroughly removes solids, oils & metals by encapsulating them in a non-leachable medium for simple disposal.

Delivered Factory Ready
on corrosion resistant skid.
Modular Design
easy to replace filters, maintain & repair.

AquaClean Dimensions
80″ Length x 56″ Width x 55″ high.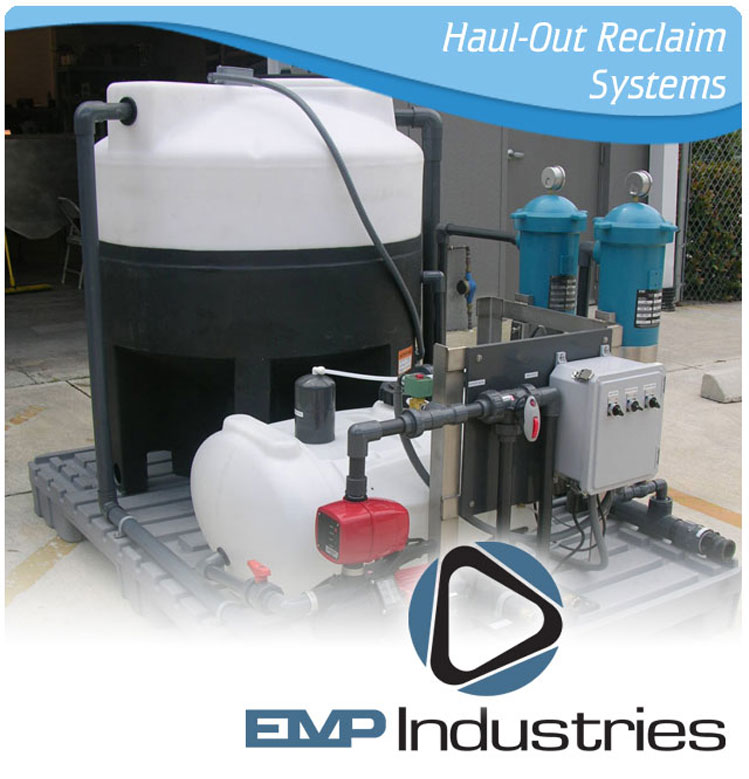 The 175 Gallon Cone Tank Separator with Solids Removal Valve & a Bio Reduction Process 60 Gallon Transfer Tank. The Heavy solids are removed in the Separator and pumped to a Dual Stage Filtration bag where 50 Micron filtration and the 20/10 micron depth filter further reduce remaining solids. Note: the types and quantities of filters for your application may be increased and or adjusted for your specific needs.
Configuration Detail
The Haul-out system is mounted on a sturdy polypropylene skid measuring 55" x 80" and can be easily relocated with a fork lift either sideways or lengthways. This unit can even be mounted on a trailer or in a pick-up truck bed. It plugs in with 110/20 VAC and has one city water hook-up.
User and Management Best Practices
Solids can easily be removed from the cone tank separator with the discharge valve and the supplied bag filter. Once solids are removed and contained in the bag filter they are legal for dumpster disposal. Dual stage filtration requires only one bag filter and one depth polishing filter which can also be disposed of. The average expected consumable cost is about $50.00 per 50 or so vessels cleaned and is based upon 35-40 foot relatively dirty boats. If boats are cleaner you can expect more life from the two consumable components. Accessibility to the dual stage filters is easy and changing the consumables takes only minutes!
The Haul-out unit features an auto-recirculation process that circulates the water in both tanks while filtering and sterilizing the recycled water with UV and a bromine treatment processes.
System re-circulates the recycled water through the cone tank, reservoir tank, UV treatment and bromine treatment.

Ultra Violet Light & bromine treatment mitigate algae & marine organics.

15 Gallon Per Minute flow rate.

Small footprint – 80″L x 56″W x 62″T.

110 VAC – energy efficient!

Solids reduction to 10 microns or custom if needed.

Solid pallet base makes it easy to move & relocate.

Easy & fast installation.

175 Gallon Settling tank – for larger particles.

Freshwater makeup with float valve control.

No harmful chemicals.

Economical and easy to use.

Simultaneously operates while washing boats.

Modular Design assures that your Haul-out unit will meet your needs and will grow with your business.

Dimensions: 80″L x 56″W.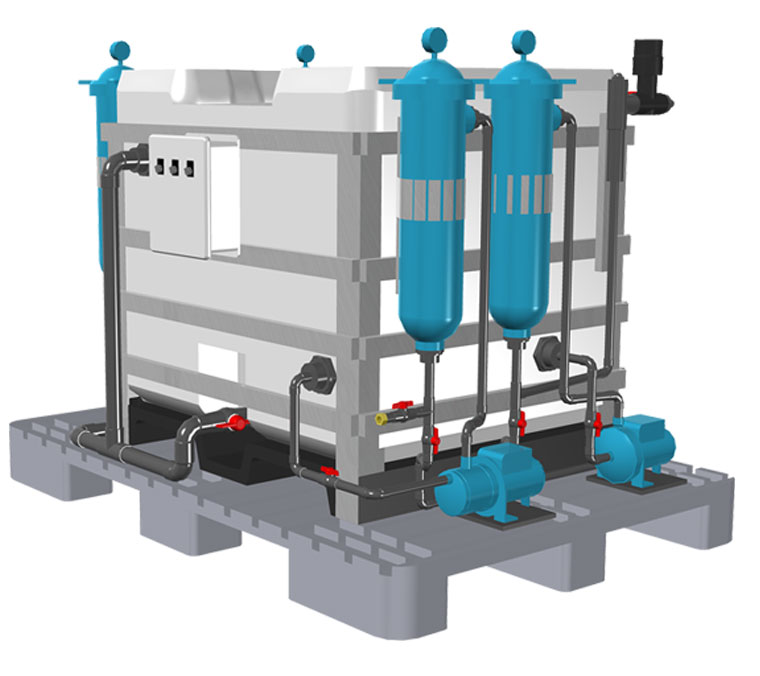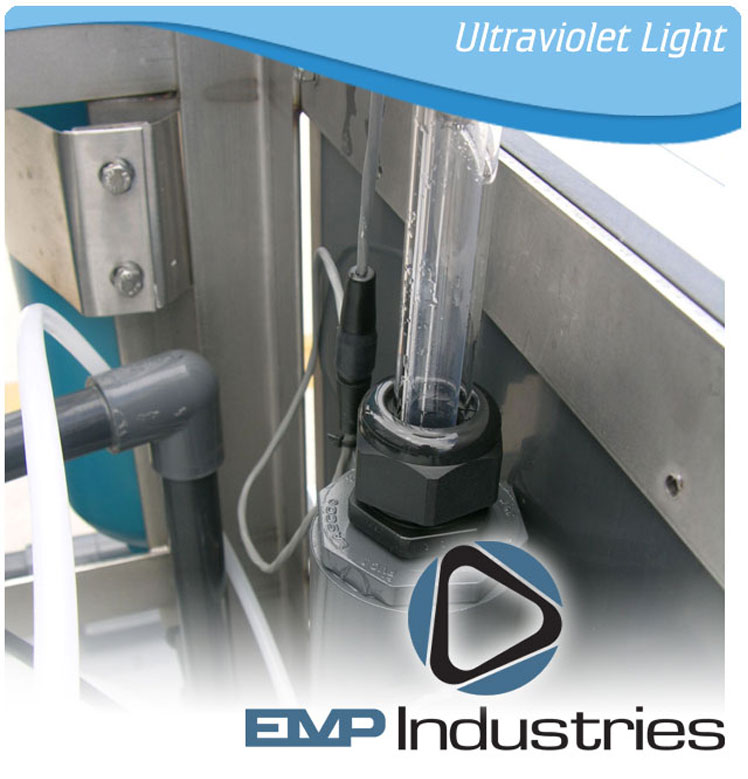 Ultraviolet Light (UV) Treatment
Boat wash water has high concentrations of algae & marine organisms. It is very important that recycled boat wash water receive the proper treatment to mitigate the organics and sterilize the water.
UV Light Treatment is cutting edge sterilization technology used worldwide in such diverse applications as sterilization of hospital operating rooms, water purification, food service sanitization, air purification and more.
The AquaClean UV light system is the most effective and safest means of destroying marine organics in boat wash water. Low energy consumption keeps your operating costs to a minimum. Hundreds of gallons may be treated for each penny of operating cost. UV treatment is environmentally and user friendly, no dangerous chemicals to handle or store.
The AquaClean Recycling System and The Haul-out Reclaim System are closed-loop systems that automatically maintain clean and odor free recycled water for your operations. Our recycling systems will save many thousands of gallons of water each year.
Recycling Water Solutions
The industry leading closed loop boat wash recycling system that collects and cleans the contaminated water from your wash pad. This water typically contains high concentrations of algae, marine organics, biologicals, solids, sand, bottom paint, chips, particles and some trace petroleum hydrocarbons. The AquaClean systems are designed specifically for recycling marine boat wash runoff water.
Recycling Water With AquaClean Is Simple & Reliable
The AquaClean filtration scheme is a logical step down filtration process that captures the solids where needed and uses medium depth filters to easily remove contaminants in the water. The AquaClean also features a multiple oxidation process that uses Ultra Violet light and Bromine treatments to eliminate organics and assist in removing trace metals and oil. The resulting AquaClean recycled water is clean and odor free.
The recycling process captures heavy solids and materials on the pad. Materials getting through sump or trench are directed to a dedicated settling tank while the finer (100 micron level) materials are stopped in the entry filters before they enter the storage tank. Next the AquaClean captures 10 micron materials in the recirculation filter and eliminates trace metals and oils in the mediums filter. The processed water is moved into the 300 gallon storage tank providing clean water which is contaminate free which is routed to your spray equipment.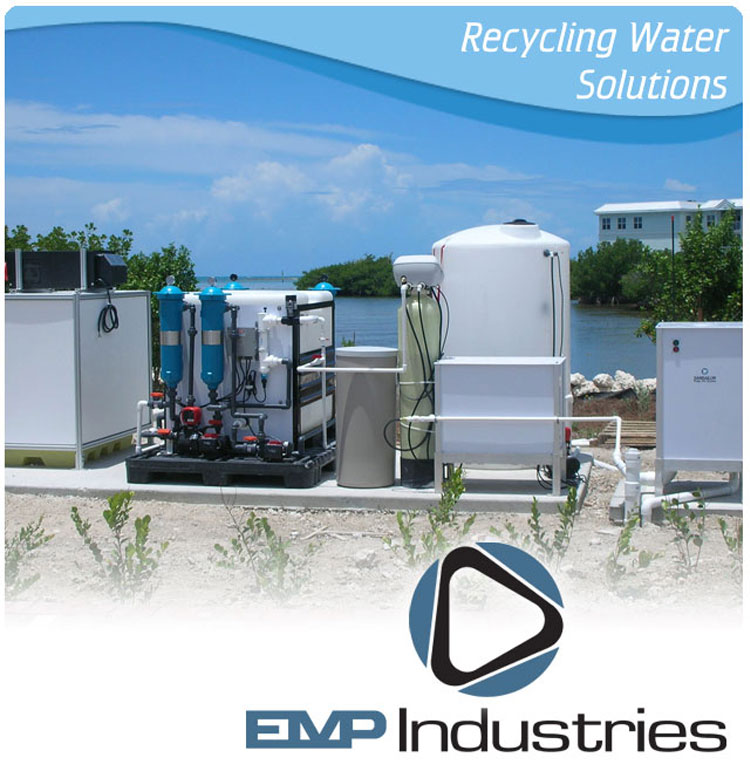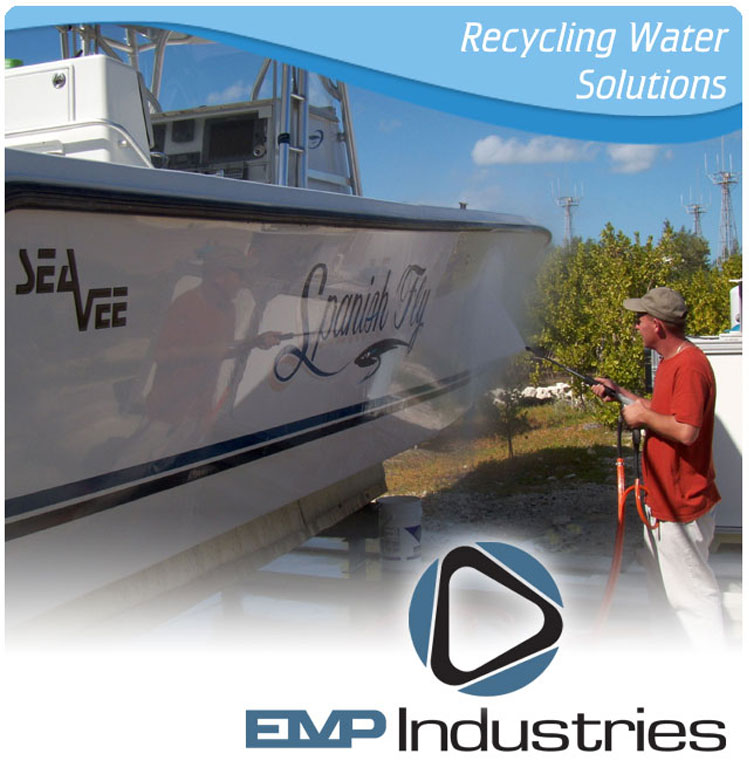 The AquaClean filters are economical, easy to inspect and replace while the AquaClean unit itself is easy to operate and maintain. A certified operator is not required.
Proven Experience & Success in the Marina Industry
We know and understand the needs of marinas and marina operators. EMP Industries has over 20 years of industry leading experience manufacturing and designing environmentally responsible products for the marina Industry. Our SaniSailor marine pumpout systems are recognized in the United States and internationally as the industry leader.
We understand that the recycling needs of a dry storage marina are different from that of a working boatyard or full service marina operation. An inland marina may be more concerned with algae on the boat while a coastal facility may be dealing more with heavy barnacles. We will work with you to ensure your AquaClean recycling system will meet your specific needs.